Massage Oils and Body Scrubs
---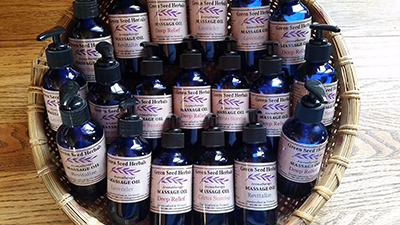 Aromatherapy enhances all types of bodywork by positively influencing the recipient's mood and increasing relaxation. Essential oils are absorbed through the skin into the blood stream for therapeutic action. Listed are five synergies and their specific therapeutic properties.
These massage, bath and body oils are made with pure essential oils in a base blend of sweet almond oil, apricot kernel oil, and vitamin E. This combination provides the right slip and glide without wasting oil, making it excellent for full body massage.
MASSAGE, BATH AND BODY OILS
4oz. Cobalt blue glass bottle with pump – $12.00
Lavender– lovely lavender essential oil. A balancing oil, it relaxes and soothes a frazzled nervous system. Lifts the spirit and calms the mind.
Citrus Sunrise – tangerine, white grapefruit, rosewood, and bergamot essential oils. An uplifting and refreshing oil making it valuable in times of stress, depression, and fatigue.
Deep Relief – rosemary, cypress, birch, ginger, and lavender essential oils. A circulatory stimulant, both analgesic and antispasmodic. Great for all aches and pains, arthritic discomfort and sport injuries.
Clarity – clary sage, basil, rosemary, lavender, and white grapefruit essential oils. A tonifying and energizing oil. Clears the head, sharpens the senses, and restores the nervous system.
Revitalize – rosemary, lavender, peppermint, and lemon essential oils. A stimulating and invigorating oil. A great pick me up and mental recharger.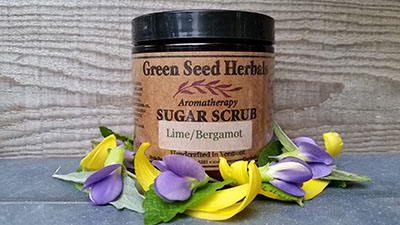 SUGAR SCRUBS
Organic Cane Sugar, Sweet Almond Oil, Apricot Kernel Oil, Vitamin E., and Pure Essential Oils. This is an exfoliating and moisturizing body scrub.
8oz. Clear Glass Jar – $15.00
Lime/Bergamot (toning and refreshing)
Tangerine/Mandarin (uplifting and energizing)
Lavender/Grapefruit (relaxing and uplifting)
Lemongrass/Ginger (invigorating and spicy)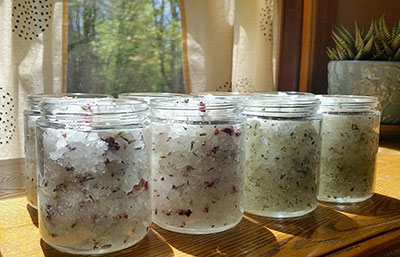 SALT SCRUBS
Sea Salts, Epsom Salts, Organic Herbs, Sweet Almond Oil, Apricot Kernel Oil, Vitamin E., and Pure Essential Oils. This is an Exfoliating, Relaxing, Detoxifying and Moisturizing Body Scrub.
8oz. Clear Glass Jar – $15.00
Relaxing Blend – Lavender, Geranium and Ylang Ylang Essential Oils.
Invigorating Blend – Eucalyptus, Peppermint and Lemon Essential Oils.
Green Seed Herbals' lavender massage oil is all I use for moisturizing my skin. I put a very small amount on my face, right after my daily shower (alternatively, I cover my face with a steaming-hot washcloth for 10-20 seconds to open the pores). I've been using nothing else on my face for years and years – and even at 50, I still get compliments about how nice my skin looks.
Shannara Johnson - Morrisville, VT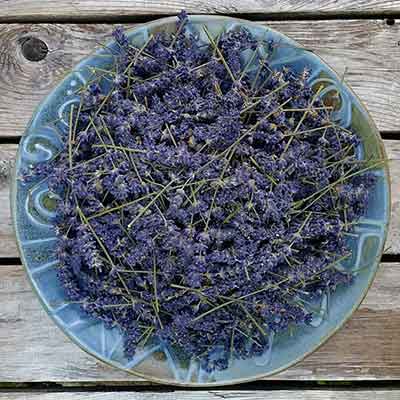 I came across Green Seed Herbals' lavender massage oil in a small store in Vermont almost 10 years ago, and have been using it ever since for massages with my wife. We both love its very natural fragrance (it's not perfumey), and it warms on your skin when used. Additionally, it's consistency stays "just right" — not too slippery and not too sticky — even when used for a long time, so a little goes a long way! The small store that I originally found it in closed long ago, but I have continued to purchase it by mail. I can't say enough about the product, and would highly recommend it!
Jeff B. ~ Mystic, CT