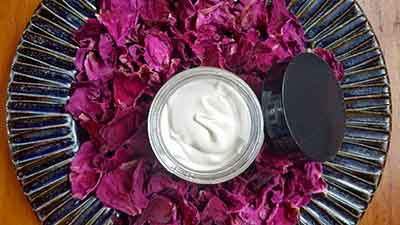 ROSE FACIAL CREAM
This rich and lightly scented cream is excellent for dry, sensitive and/or mature skin types. It may be used as a day moisturizer and night cream.
2oz. Clear glass jar – $14.00
Contains: Sweet almond oil, jojoba oil, coconut oil, rose hydrosol, aloe vera gel, bee's wax, grapefruit seed extract, vitamin E., and rose absolute.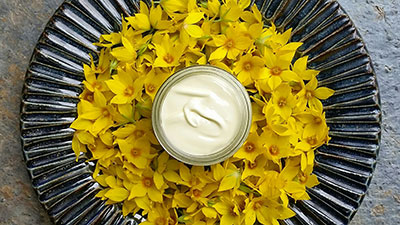 ALPINE GLOW FACIAL CREAM
A sweet, freshly scented and emollient daytime moisturizer.Great for dry, sensitive and maturing skin types.
2oz. Clear glass jar – $14.00
Contains: Sweet almond oil, jojoba oil, shea butter, neroli hydrosol, aloe vera gel, neroli essential oil, grapefruit seed extract, vitamin E., and bee's wax.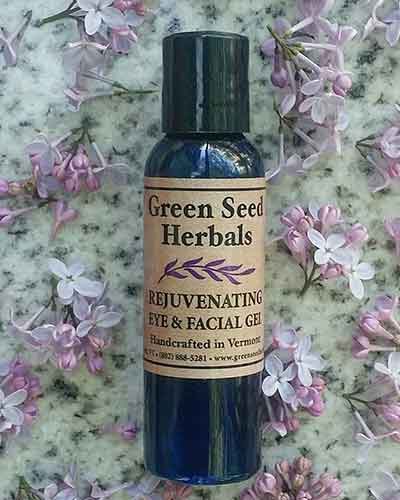 REJUVENATING EYE AND FACIAL GEL
A soothing and anti-inflammatory blend of essential oils that improve complexion, add tone and elasticity to sensitive skin . This is an excellent panacea for premature ageing and keeping wrinkles at bay.
2 oz. plastic amber pop-top bottle – $12.00
Contains: Calendula oil, jojoba oil, vitamin E., aloe vera gel, carrot seed, chamomile, lavender and geranium essential oils.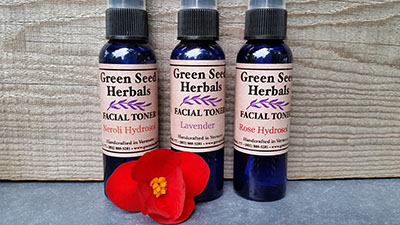 AROMATIC HYDROSOLS * Facial Toner
These hydrosols are mildly astringent, anti-inflammatory, soothing, hydrating and suitable for all skin types. They increase circulation, improve skin tone, and if used regularly may reduce wrinkles and enlarged pores.
Available in: Rose, Neroli, Sandalwood, Hydrosol Bouquet (combination of all), lavender
2oz. Plastic cobalt blue spray bottle – $7.00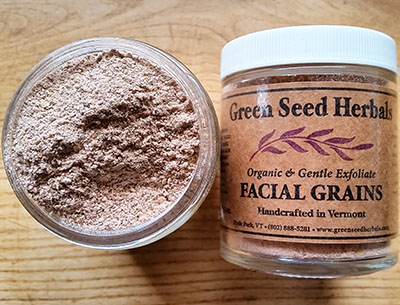 ORGANIC FACIAL GRAINS
This is a gentle, rejuvenating and non-drying face and neck exfoliate. It may be used as a mask when combined with yogurt, honey, or any hydrosol.
6oz glass amber bottle – $7.50
Contains: Rolled Oats, Cornmeal, Rose Clay, Lavender and Calendula Petals. All ingredients are organic and finely ground.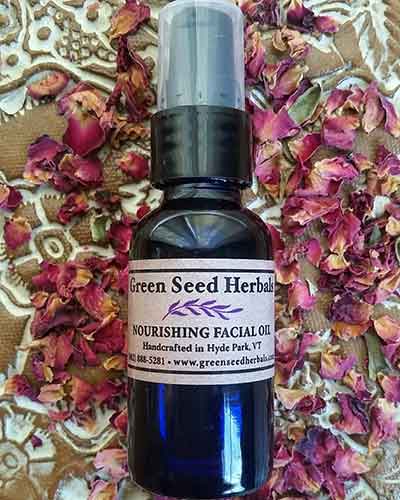 NOURISHING FACIAL OIL
This antioxidant rich oil is perfect for aging and mature skin types. It is cell regenerating, revitalizing, firming and softening. Great at any age but the essential oil blend is specific for post menopausal skin.
1oz. Cobalt blue treatment pump – $20.00
Contains: All organic oils except for pesticide-free jojoba, argan, rosehip seed, pomegranate seed, vitamin E., and a therapeutic blend of essential oils.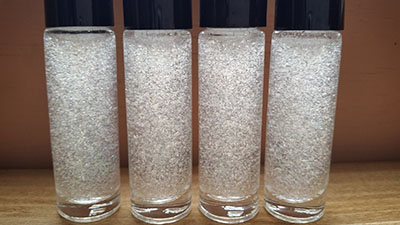 BODY GLITTER
Organic aloe vera gel, vegetable glycerin, alcohol and fairy dust.
.35oz cobalt blue glass roll-on application – $7.00
I met you at the Farmers' Market when I was on a retreat. I bought the Rose Facial Cream and I LOVE IT! I have tried so many, many things…nothing is as great and soothing as your products.
Susan D. ~ Banning, CA
I use Green Seed Herbals Nourishing Facial Oil during the dryer months to keep my face moisturized. I love the way it feels on my skin. I also love the way it smells, invigorating but not intense.
Ryan P. ~ Brooklyn, NY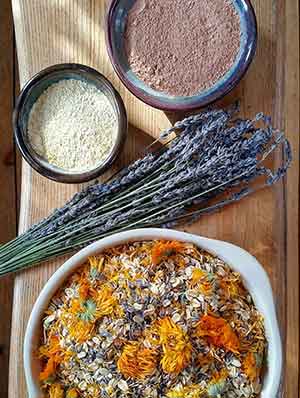 My face gets mad when I don't use the Alpine Glow Facial Cream. How many times have you had your products called life changing?
Meg B. ~ Athens, GA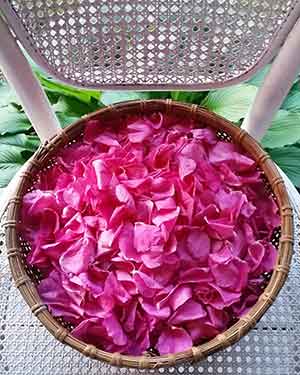 I usually get painful heal cracks and also painful finger tip cracks in the Winter in Vt. because I work outside. But thanks to your amazing products (the facial oil and rose face cream) which I use on my face, feet and fingers…no more cracks and no more pain! I am so grateful! This is a true miracle!
Sarah G. ~ Middletown Springs, VT